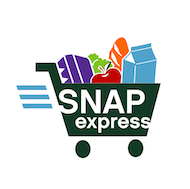 Build Your Own Meal Kit
INSTRUCTIONS:
* Press the plus sign below to view available recipes and add one to the kit.
* Search more than 200 recipes in the SNAP Express recipe bank.
* As you add recipes to your kit, the total cost, servings and price per serving information is updated on the meal kit card.
* Happy with your kit, order all of the ingredients through a participating store chain by pushing the red "Start Order" button.
Helpful Tips

Check your pantry

Start with an ingredient you already have on hand. For example, if you already have oatmeal in your house, you can search for oatmeal recipes, add them to your meal kit and then delete just the ingredients you already have in your house from your shopping cart.

Helpful Tips

Choose meals with similar ingredients

Did you find a great recipe with eggs such as the "Sweet Potato Hash & Eggs?" Add it to your meal kit. Then for your next recipe, search eggs and you will find recipes to use the extra eggs such as "Black Bean Veggie Patties." Your shopping cart will adjust so duplicate items combine.

Helpful Tips

Consider Leftovers

Some meals make for better or more leftovers such as soups and casseroles. Add one of these options to your meal kit, prep the meal once, store in smaller servings, and have a quick single-serving leftover option for lunches or easy dinners all week. Soups & casseroles are also a great way to use any extra veggies you have from other meals you select.

Helpful Tips

Vary your protein

Don't forget to search for meatless options to save money and add fiber to your diet. Try looking for beans, peas, lentils, and eggs.

Helpful Tips

Double check your cart for color

As you select your meals, double check that you're choosing meals with a variety of colors. Dark leafy greens, bright reds & oranges, and darker blue & purple produce all come together to make sure you're getting the vitamins and minerals you need to feel your best.

Helpful Tips

Final Cart Check

Save money by looking through your final shopping cart. Delete items you already have in your kitchen. Add any spices you may need for the recipes you selected. Don't forget to add any other nutritious pantry staples and your favorite grab & go whole fruits and vegetables.